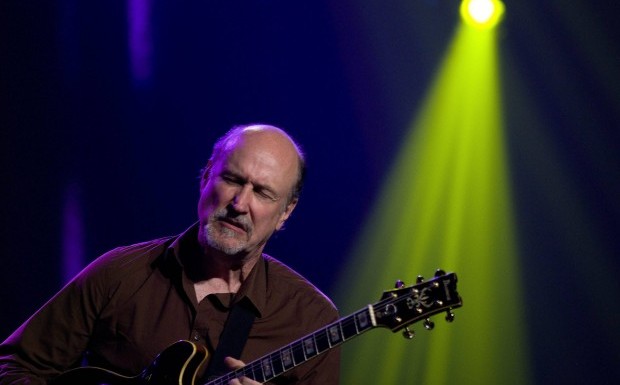 by Calvin Wilson
September 28, 2012
Throughout his career, jazz guitarist John Scofield has performed in a wide range of contexts, from his days in trumpeter Miles Davis' fusion band to his recent experiments in blending post-bop improvisation with jam-band populism.
But the format Scofield keeps returning to is the trio, with longtime collaborators Steve Swallow on bass and Bill Stewart on drums.
Together, they create the kind of gloriously engaging music that the great Duke Ellington described as "beyond category" — and that you can hear this weekend when the John Scofield Trio performs at Jazz at the Bistro.
Scofield, who led a quartet at the Bistro last year, says playing in the stripped-down trio setting allows for an unfettered freedom. But it's also a challenge.
"You're really aware of everything that you're doing," he says. "The guitar has to play harmonically as well as melodically — play the changes and solo at the same time. And that's hard. By the end of the night, my fingers are worn out, and my brain is certainly fried."
What makes it work, Scofield says, is his musical chemistry with Swallow and Stewart: "I couldn't do it without them."
Indeed, there's far more to this band than just a guitarist being accompanied by a rhythm section. Not only have Swallow and Stewart shared bandstands and studios with the jazz elite, but each is a highly regarded artist in his own right.
"This trio has been together for 20-plus years," Scofield says. "I met Steve when I was a Berklee (College of Music) student, and he came there to teach. We've been playing together, on and off, ever since. He's been like my mentor."
Stewart was the drummer on several of the albums that Scofield recorded in the 1990s for the Blue Note label, including "Meant to Be," "What We Do," "Hand Jive" and (with Swallow and guitarist Pat Metheny) "I Can See Your House From Here."
The trio is heard to fine effect on Scofield's 2004 album on the Verve label, "EnRoute." Devoted mostly to Scofield originals, the recording also makes room for the bop classic "Wee" and the enduring Bacharach and David tune, "Alfie."
The Bistro shows are likely to be similarly eclectic, Scofield says.
"Songs from my various records, bebop tunes, blues — all kinds of stuff," he says.