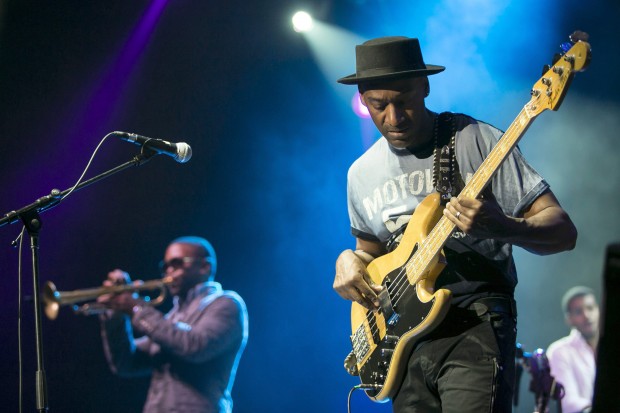 by Kevin Johnson
September 7, 2012
It was only a matter of time before multi-instrumentalist, composer and producer Marcus Miller released an album titled "Renaissance."
The Grammy winner and renowned bassist's credits spelled it out long ago from his composition of "Tutu" for Miles Davis, writing and producing a number of hits for Luther Vandross and David Sanborn, scoring numerous movies including "Boomerang" and even writing the party jam "Da Butt" for E.U.
"I remember reading stuff about myself, and they would always call me a renaissance man," he says. "I was only 19. But I've always been involved in so many different things."
"At one point, I had Luther, Aretha (Franklin), I was playing in Miles Davis' band and I had a No. 1 jazz album with Sanborn at the same time," Miller says. "That always felt natural for me — having 12 things happening at the same time."
Miller only has about eight projects in the works today, he says, including a new radio show, various movie projects and, of course, his "Renaissance" album.
"I love taking advantage of everything the music world has to offer," he says.
On "Renaissance," which represents a new sound and feeling for Miller, he decided it was time to get back to basics with a core of great musicians.
"A lot of times when I make albums, I make them big with a bunch of guests, and they're heavily layered," he says. "This time I wanted to make it clear it's about the basics of music."
Many of Miller's early albums, he says, were the result of being an intense studio rat. He says he used to live in the recording studio, spending up to 20 hours a day there and practically sleeping under the console.
"That was my life," he says. "I really loved spending as much time as possible in the studio, experimenting with different sounds and studio effects."
But since then, he's more about fleshing out his live-performer side on the road. Being less studio-focused changes the music, he says.
"Before, I was making as much of a studio record as possible," Miller says. "Now, I want it to reflect what I'm doing onstage. … I don't want to spend that much time in the studio now. It's a different mentality."
Miller knew where he was going with "Renaissance" when he got to the song "Redemption," which he considers the center of the album that represents a nice combination of classic and new sounds. From there, he went to the left and to the right of that sound, but "Redemption" remains the anchor.
On the album, Miller took on several stirring covers, including the Jackson 5's "I'll Be There," which he performed at a bass clinic three years ago, shortly after Michael Jackson's death.
He forgot about the song until his manager played it for him near the end of the recording of "Renaissance." He felt the album needed this song from an act that was very influential in his childhood.
"I didn't take music seriously until I heard Michael Jackson and his brothers," Miller says. "I thought, 'Wow, these brothers are my age, and they sound this good.' I had to get serious."
Miller also covers War's classic "Slipping Into Darkness," which he says plays into his basic bass nature and also goes back to his formative years.
"When I was coming up, there were bass lines that are still with me, like Chic's 'Good Times,' Isaac Hayes' 'Shaft' and the bass line from 'Slipping Into Darkness,'" he says. "They weren't complicated, but they were just so soulful. Sometimes that's more important than the melody."
But the biggest surprise on "Renaissance" might be Miller's tackling of Janelle Monáe's "Tightrope," featuring Dr. John. Miller knew he had to include the song after he saw the video for the first time.
"I love it because it sounds new and it sounds old at the same time," he says. "The bass line is like New Orleans. I said, 'I wanna do a version of that and bring out the New Orleans,' so I got Dr. John. His voice just sounds like New Orleans."
Miller and his band are bringing six pieces to Jazz at the Bistro next week: two horns, guitar, bass, drums and piano. What's not certain is whether he'll bring the oddest song in his repertoire, "Da Butt," still a favorite on old-school R&B radio.
He says that song, which is in stark contrast to the rest of his set, is only done sometimes, such as on some tour dates last year with David Sanborn and George Duke. It was initially performed impromptu, and Sanborn loved it so much he learned a verse.
"I gotta be careful," Miller says. "That song overpowers everything else."